99% of podcasts never get over 4.5K+ downloads per month. We did this for our client in under 60 days.
When we started working with FairStreet, they were largely focused on demand capture. Specifically, they were deploying a lot of resources to paid ads and cold emails.
When we engaged with them the defined goals were to help them with demand generation, grow their reputation in the space, and help the sales team.
They wanted to create inbound leads that were buyer ready and make it so that all potential customers who they talked to already knew who they were, and what they did.
In only two months we got the podcast to 5K+ monthly downloads, grew a newsletter to 5500+ with a 40% open rate, and generated $100K+ in customer lifetime value.
Below are the details.
Schedule an Intro Call to Grow Your Podcast
Speedrunning production of the podcast for instant downloads
We went from an idea to a live-published episode in 10 days.
For the podcast branding, we pulled out the branded assets the client already had and then created thumbnails and copy for the podcast description. When you're making these assets, built them as repeatable templates and use the host's and the guest's headshots. We've found it increases CTR and also just makes the media more human because they can attach a face to content.
Naming the podcast for discoverability and brand positioning
To name the podcast, we had the client share who their customers are and how they identify themselves. Specifically, we were looking at keywords that people would use to describe themselves and what they would search for when trying to educate themselves.
After this research, we chose The Medicare Agent Podcast because it established good positioning and created great discoverability. People use podcast players as search engines, you want to come up in the results.
To increase discoverability further, we also included keywords in the podcast description that people would search for when they were looking for education.
Interviewing customers about topics people search for
So you have the structure of your podcast built, now you need to publish content.
One of the fastest ways to do this is to get your customers onto the podcast to talk about their businesses. This does a couple of things including:
Building deeper relationships with customers
It creates trust with prospective customers because it functions as a disguised testimonial
Your customers are experts who are sharing their business knowledge
When inviting guests on, we focus on topics we knew people would search for based on market research and FairStreet's customer conversations. In every episode, we would include our target keywords like "medicare agent", "medicare business", "medicare agency" etc. to increase the discoverability.
Now if you go search for any medicare business-related keyword on Spotify or Apple podcasts, we come up.
Growing their newsletter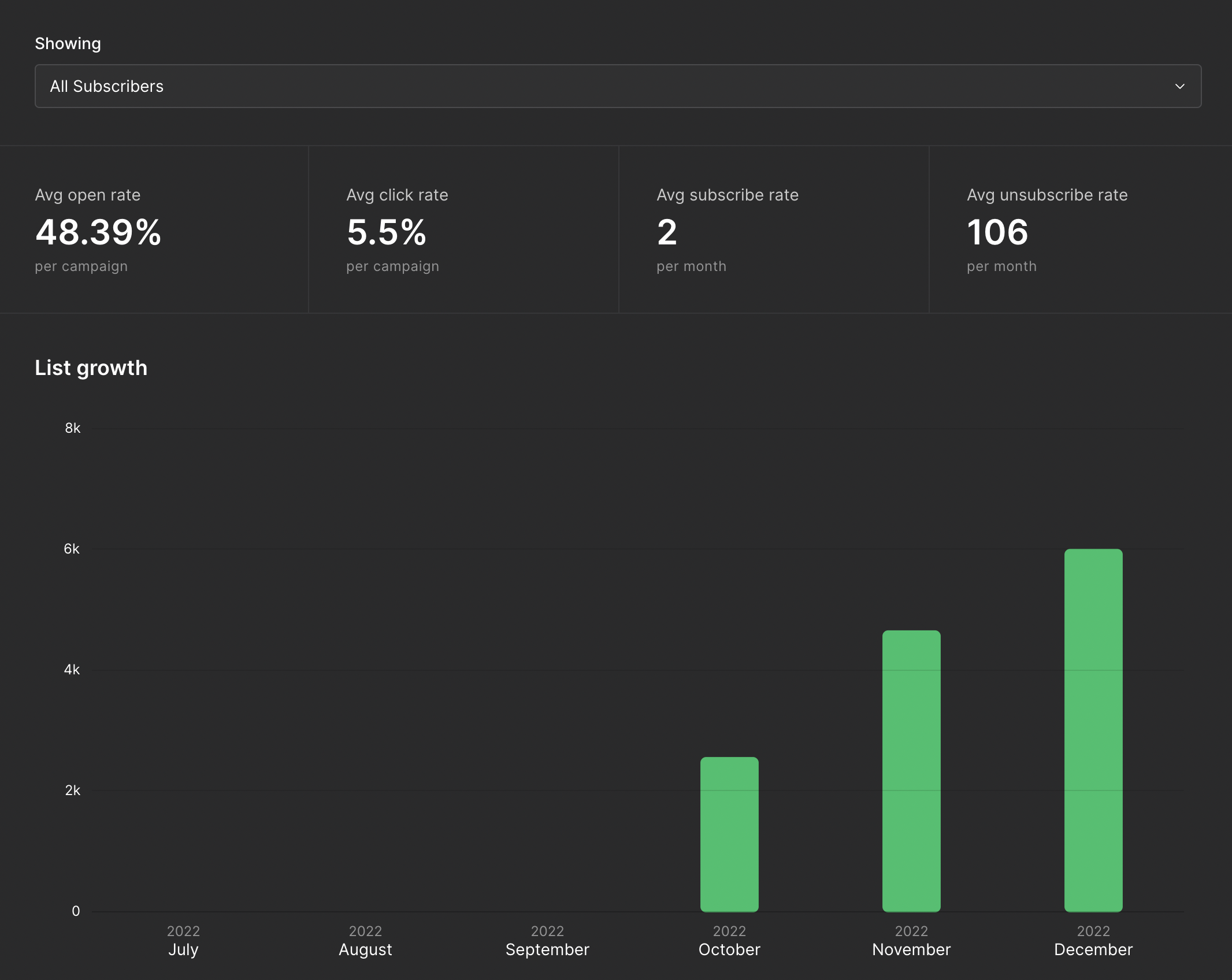 So the podcast was live, but people weren't listening to it. To jump-start downloads, we scraped google maps for the all businesses in the US that come up when you search "medicare".
We then put those URLs into email scraping tools to extract company emails, and validated these emails with an email validation software.
The end product is a list of target customers we could start promoting the podcast to. To get them to listen to the podcast, we then sequenced them into Mailerlite by adding 200 people to the list per day so the list wouldn't get spam flagged. As soon as they're imported, we email them about our most recent podcast.
So here is the crazy part, this list of validated target customers that we scraped has a 40% open rate and an average CTR of 5%.
THIS IS A DIRTY LIST, and we're not getting spam complaints. Our target audience wants this content in their inbox, even if they didn't sign up for it.
Using the podcast for one-to-many selling to create revenue
Finally, the podcast has created massive value already in the short time it has existed. Since this client is a funded startup, they have limited sales resources and time. The podcast has turned into a one-to-many salesperson by getting people down the funnel and buyer ready.
Below is a screenshot from the shared slack with the client.
Let's break down this customer journey:
They searched for "medicare agent" on their podcasting app
FairStreet's podcast came up
They binged the episodes
Went to the website
We pixeled them and remarketed to them on Facebook, Instagram, and Linkedin
They reached out to a guest, asking if they enjoyed working with FairStreet
They submitted the signup form saying they were ready to join, no sales call needed to close
This was only two months into having the podcast live!!
Think about how valuable this will be this is for a brand when all of this has compounded.
Conclusion
To succeed with a b2b podcast and make it create impact quickly, you need to focus on discoverability, distribution, and having a strong call to action to go further.
In every podcast, we say 'this episode is sponsored by FairStreet', share the value props, and tell the listener to go sign up for the product.
By creating distribution to the right people, having educational non-sales focused content, and strong calls to action to learn more about the company we can create a huge growth flywheel of owned media.